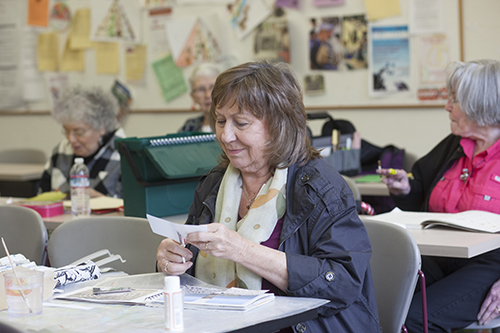 SRJC Older Adults Program makes signing up for classes easy, and you're welcome to join any class at any point during the semester. Contact us at: (707) 527-4533 
If you're new to the Older Adults program, or have not taken an Older Adults Program class within the last two semesters, apply here.
How to Enroll in an Older Adults Program class
Email the Instructor of the class you wish to attend to be enrolled. 
Please note: Instructor email address may be found by clicking on section number in schedule of classes. You may email Instructor with questions concerning enrolling in their class.
---
Continuing/Returning Students with a student portal
If you know the section number you would like to sign up for, register for classes by signing into your student portal. 
If you don't know the section number, navigate to the Schedule of Classes, find the class you want to sign up for (looking under the letter "O"), click the "Shopping Cart," sign into your student portal and follow the prompts.
*if you do not have a student portal set up, please email the Instructor of the class you would like to be registered for. The instructor will be able to enroll you. 
---
Select the course you are interested in, for example, OA 501 Art, OA 505 Discussion, etc.
You will then be lead to the schedule for all courses in your chosen course selection.
SRJC ONLINE SCHEDULE OF CLASSES
Visit the SRJC Schedule of Classes page.
Select the term you wish to take classes.
Select the letter "O" for 'Older Adults Program'
Select "Older Adults Program" 
From here you can click on whichever classes interest you, for example, OA 501, OA 502, etc. 
Once you've selected a course you'll be led to a page that will list all the course information /course offerings available: Days, Hours, Location, the Instructor, and more!